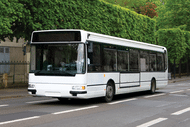 Services - people transportation
The safety of your passengers is one of our primary concerns. Our innovative solutions for tires, vehicles and bus or coach drivers accompany you on a daily basis.
MICHELIN® ONCALL provides an end-to-end solution for breakdowns.
Identify and address tire issues before they lead to downtime, low mileage, high fuel costs and safety risks.
MICHELIN® ADVANTAGE PROGRAM
You don't have to be a big fleet to get on the road to big savings.
MICHELIN® COMMERCIAL SERVICE NETWORK
Consistency and reliability form a network you can trust.
MICHELIN® FLEET SOLUTIONSTM
Customized, affordable fleet tire lease programs preserve your capital.