BY COMBINING MICHELIN® ENERGY GUARD AND MICHELIN® X ONE® TIRES
SAVE $5,195 IN FUEL ANNUALLY1
SAVE 40 LITERS EVERY 1 000 KM (17 GALLONS EVERY 1 000 MILES)2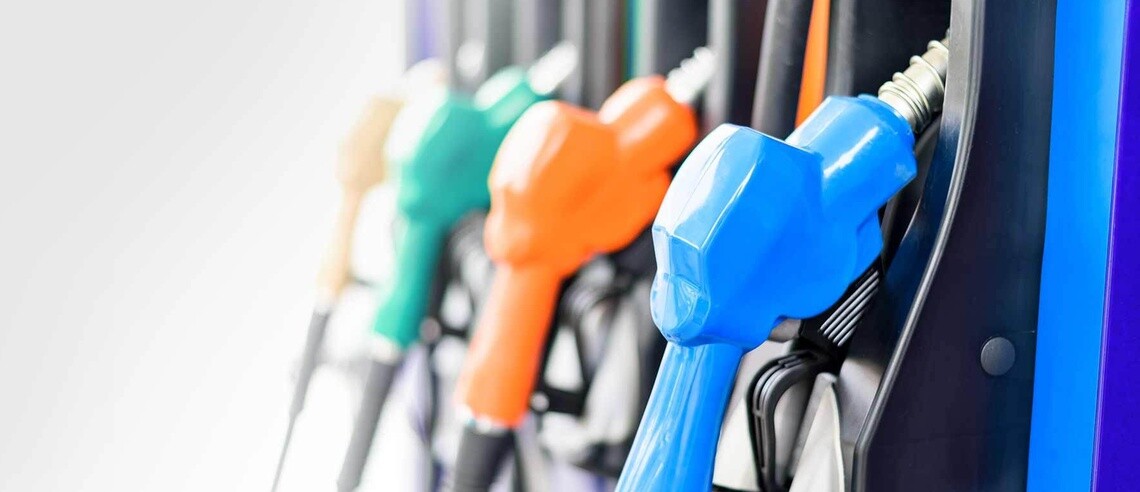 FUEL FACTS
Fuel is the largest vehicle-based cost in trucking.3
Aerodynamics and tire rolling resistance contribute up to 85% of a rig's drag4 which negatively impacts fuel consumption.
Fuel efficiency provides a competitive advantage and improves your bottom line.
INCREASE PAYLOAD CAPACITY
BY REDUCING TRUCK WEIGHT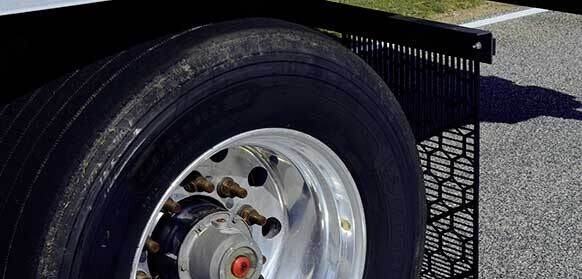 WEIGHT FACTS
One MICHELIN® X ONE® wide base single tire and wheel weigh less than two duals and wheels.
With the weight savings, a fleet can carry more payload.
TYPICAL POWER DISTRIBUTION OF CLASS 8 TRUCK AT 65 KM/H AND 80,000 LBS. GVW

IMPROVE YOUR FUEL ECONOMY WITH MICHELIN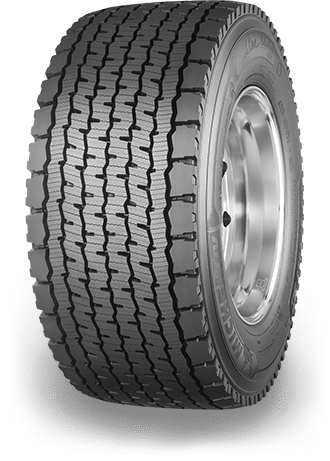 1. REDUCE ROLLING RESISTANCE WITH MICHELIN® X ONE® TIRES
Reduce rolling resistance and increase fuel economy with MICHELIN® X One® wide base single tires. These tires have two sidewalls, which results in less flex when compared to the four sidewalls that dual tires have. In addition to less flex, these tires are designed with advanced tread and casing technologies.
One MICHELIN X One wide single tire and wheel weigh less than two duals and two wheels. Every 10% drop in truck weight reduces fuel use between 5–10%5. With the weight savings offered by MICHELIN X One tires, a truck fleet can carry more payload.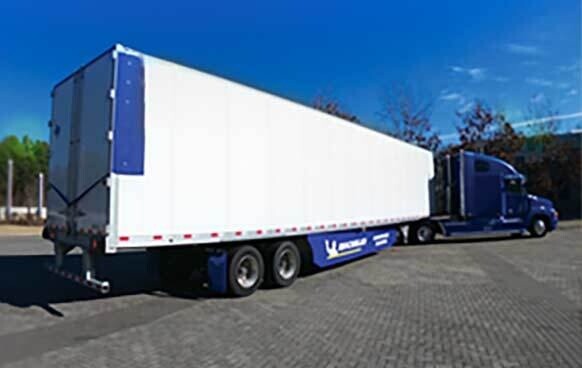 2. IMPROVE AERODYNAMICS WITH THE MICHELIN® ENERGY GUARD SOLUTION
Control your vehicle's airflow and get significant fuel savings with the MICHELIN® Energy Guard, a fully integrated aerodynamic solution. A resilient trailer skirt, patent-pending bracket and slider design, drag-reducing trailer end fairings, innovative wake reducer and aerodynamic mud flaps work together to combat the wind and improve your bottom line.
1 Estimated fuel cost savings based on fuel savings results1, with fuel prices at 2019 diesel fuel average of $3.056/gal., if tractor and trailer travel 100,000 KM/H per year with a baseline fuel economy of 7.4 KM/H.
2 Estimated fuel savings at 65KM/H based on commissioned, third-party MVT Solutions Certified™ testing procedure on a modern Class 8 truck and 53' trailer equipped with MICHELIN® Energy Guard, MICHELIN® X Line Energy Z 275/80R22.5 steer tires, MICHELIN® X One® Line Energy D drive tires, and MICHELIN® X One® Line Energy T trailer tires, and compared to a trailer with no aerodynamic devices, equipped with Bridgestone R284 Ecopia™ 295/75R22.5 steer tires, Bridgestone Greatec M835A Ecopia™ 445/50R22.5 drive tires, and Bridgestone Greatec R197 Ecopia™ 445/50R22.5 trailer tires. Actual results may vary, and may be impacted by many factors, to include road conditions, weather, environment, combination of steer and drive tires used, driving habits, tire size, equipment and maintenance.
3 "An Analysis of the Operational Costs of Trucking: 2019 Update", Prepared by the American Transportation Research Institute, November 2019.
4 Class 8 Truck Energy Audit, Technology Roadmap for the 21st Century Truck. Program: A Government-Industry Research Partnership, 21CT-001, December 2000. Or Page 208 of 1690 Greenhouse Gas Emissions and Fuel Efficiency Standards for Medium- and Heavy-Duty Engines and Vehicles—Phase 2
5 "Fuel Economy 101" by Fleet Owner
REQUEST MORE INFORMATION
Learn more about MICHELIN® X One® tires and the MICHELIN® Energy Guard Solution by entering your information below.
Thank You
Submission Confirmed! Your message has been submitted. Thank you for contacting Michelin. A Michelin Representative will respond to you shortly.

By providing my email address and clicking the button below, I agree to the Terms & Conditions and Privacy Policy, provide my electronic signature, and consent to receive automated marketing emails, regardless of any previous registration on any company, State or National opt-out list from Michelin North America, Inc. Consent is not a condition of any purchase. You may opt out any time. A Michelin representative may contact you if you express interest in being contacted in regards to a product or service offer. The Representative could be your local Michelin Sales Representative or a Michelin Authorized Dealer in your area.