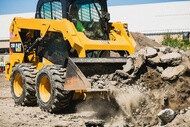 Skid Steer Tires
Fuel efficient and durable tires designed to improve your loader and construction site operations, while providing the ultimate rider comfort
Learn how to improve traction, have better durability and offer the best
operator comfort and fuel-efficient for your Skid Steer.
Find the right trailer tyres for fuel efficiency :
There are no products associated with this use

ALL TERRAIN
Michelin radial tires provide better traction, have greater flex and a larger footprint
Find the right all terrain skid steer tires:

Hard Surface
Michelin radial tires are designed to carry more weight, reducing the tendency for sidewall fatigue and failure
Find the right hard surface skid steer tires:
Our specialized offers for your construction and industrial performance - MICHELIN Skid-Steer tires
Michelin is always committed to developing and improving your tire performance, helping you save time and money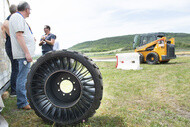 MICHELIN TWEEL Fitment Guide
The MICHELIN TWEEL Fitment guide provides valuable airless tire information for your equipment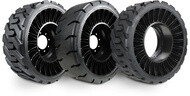 Michelin TWEEL Product Guide
Download our TWEEL airless radial tire product guide to see features and benefits related to your equipment.
Find the right trailer tyres for a long lasting performance :
There are no products associated with this use
Our best offers to help keep you safe in all driving conditions
The success of your business depends on your commercial vehicle. Don't let lost time stop your operations; choose MICHELIN to keep you driving in all weather and on all terrain.

Background x tweel ssl skidsteer Help and Advice
FIND YOUR AIRLESS TIRES
Discover and buy MICHELIN TWEEL from a network you can trust.
Find the right trailer tyres for a safe driving :
There are no products associated with this use