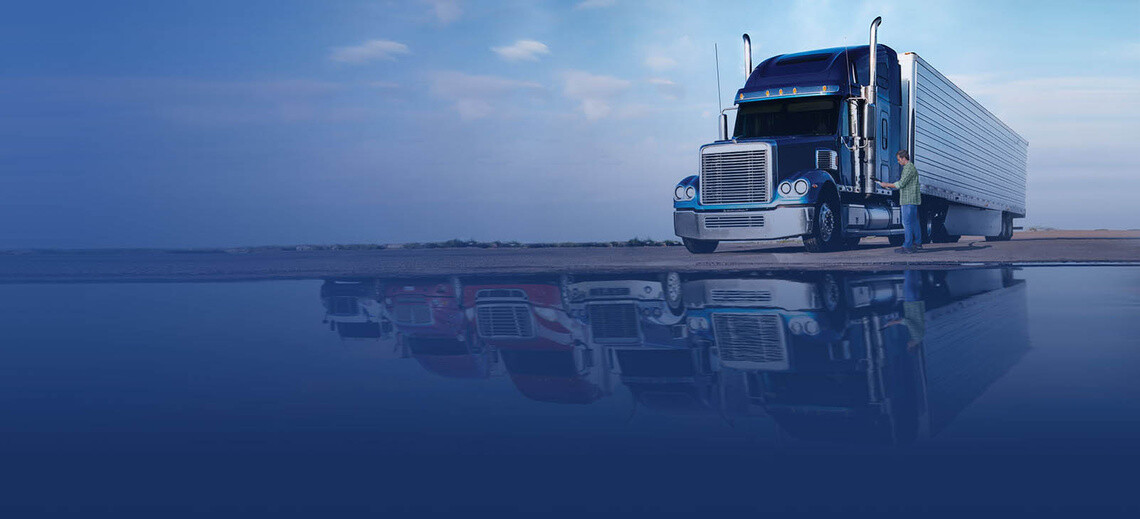 MICHELIN® ADVANTAGE PROGRAM
YOU DON'T HAVE TO BE A BIG FLEET TO GET ON THE ROAD TO BIG SAVINGS.
The free MICHELIN® Advantage Program allows Small Fleets and Owner-Operators to collaborate with Michelin to increase their productivity. With consistent, nationwide pricing on new MICHELIN® truck tires and MICHELIN® Retread Technologies and Oliver® retreads, an online business portal and waived dispatch fees, it pays to be a member.
THREE ADVANTAGES. ONE PROGRAM.
Consistent Pricing Nationwide
Utilize Online Tools & Resources
YOUR 24/7 EMERGENCY ROAD SERVICE PROGRAM
MICHELIN® Advantage Care: Maximize Your Productivity
MICHELIN® ONCALL EMERGENCY ROAD SERVICE, NOW MORE THAN TIRES
MICHELIN® ONCall not only gives you high-quality, consistent tire services such as free dispatch, nationwide coverage, ERS response time and innovative online tools, it offers direct access to diesel technicians, along with towing services.* One call does it all: 1‑800‑TIRE‑911 (1‑800‑8473‑911)
*Nominal dispatch fee for mechanical and towing services
MICHELIN® ADVANTAGE CUSTOMER SERVICE
Advantage members have a dedicated customer service team available to answer questions on system access, billing, invoicing, orders and to help you to get the most of your membership.
background map headerbg3 tire
ACCESS TO THE ULTIMATE SMALL FLEET AND OWNER‑OPERATOR TOOLS
MICHELIN® Advantage Access: Improve Your Performance
ONLINE BUSINESS TOOLS
We make managing your business easier. Check your pricing, order tires, manage your account online and view your invoices using the Advantage Member website.
TRAINING, MAINTENANCE TECHNIQUES & MORE
Using Michelin's tire management programs, you can tap into valuable business tools such as training, technical documents, maintenance techniques and webcasts. Improve your operation's performance—get the MICHELIN® Advantage.
E-NEWSLETTER
Receive the MICHELIN® Advantage Program e-newsletter for ongoing tips, promotions, product information and updates.
SEE WHAT MEMBERS ARE SAYING
"Having the MICHELIN® Advantage Program is a good thing, especially for the owner-operators...when you're out on the road you've got somebody you can call and...get service immediately and not have to worry about billing..."
EDDIE COGGIN, BUSINESS CAPACITY OWNER / R.E.B. TRUCKING
MICHELIN® Advantage Program Testimonial -- REB Transportation
edito map portrait eddie tire
edito map portrait tim tire
"I looked at several national account programs, and in fact I was a part of a couple of them, and the MICHELIN® Advantage Program was a whole lot better than those, they saved me a lot of money."
TIM HEPLER, OWNER-OPERATOR / BRENWAY INCORPORATED
Tim Hepler Testimonial - Michelin Advantage Program
FOR QUESTIONS ABOUT THE PROGRAM OR HELP WITH THE APPLICATION, CALL US AT 1-888-532-6435 OPTION 3.
Michelin Advantage Program FAQS
Q. What is the Michelin Advantage Program?
A. The Michelin Advantage Program is a mandatory credit card program that provides small fleets or Owner-Operators with control over their tire cost at home and on the road.
Q. Who is eligible for the Michelin Advantage Program?
A. The Michelin Advantage Program was designed with owner operators and small fleets with less than 100 power units in mind.
Q. How long will it take for me to be set up on the program?
A. Once an application is completed and submitted you will receive a welcome email with your Bill To/Ship To Numbers as well as your B2B login ID and password.
Q. Is there an annual fee or minimum purchase to participate in the program?
A. The Michelin Advantage Program is a free program with no annual fee and no tire purchase obligation.
Q. Can I purchase tires at any Michelin Dealer?
A. Yes, you can purchase tires at any authorized Michelin Tire Dealer. You can locate a dealer close to you by using our dealer locator.
Q. Are retreads included in this program?
A. Michelin Retread Technology and Oliver® retreads are authorized for purchase on the Michelin Advantage Program
PROGRAM TERMS AND CONDITIONS
Small fleets and Owner-Operators operating between 1-99 trucks or buses are eligible to apply. Please allow up to 2 weeks for processing application. You will receive a welcome email once your application is processed. The welcome email will contain your login information for the customer portal, as well as your Michelin Ship-To and Bill-To account numbers, which are your program account numbers. All program purchases must be made using a credit or debit card—VISA, MasterCard or American Express only. No enrollment or annual fees apply to join the program. Program currently available to U.S. and Canada-based customers only.