MICHELIN
X ONE® XTA® Custom Mold Retread
Trailer position retread / recap optimized to promote stability and resistance to uneven wear in new generation wide-based singles in line haul applications.
WHY THIS RETREAD / RECAP ?
Tread design optimized for stability and resistance to uneven wear.
Unique fuel efficient* compound contributes to greater fuel savings.
13/32nds original tread depth
1. Advanced Technology Compound
Fuel Economy** – Delivers low rolling resistance.
2. Optimized Deep Tread
Long, Even Tread Life – Designed for long mileage and even wear.
3. Winged Tread***
Shoulder Adhesion – Winged retread / recap provides maximum tread-to-shoulder adhesion in high scrub applications.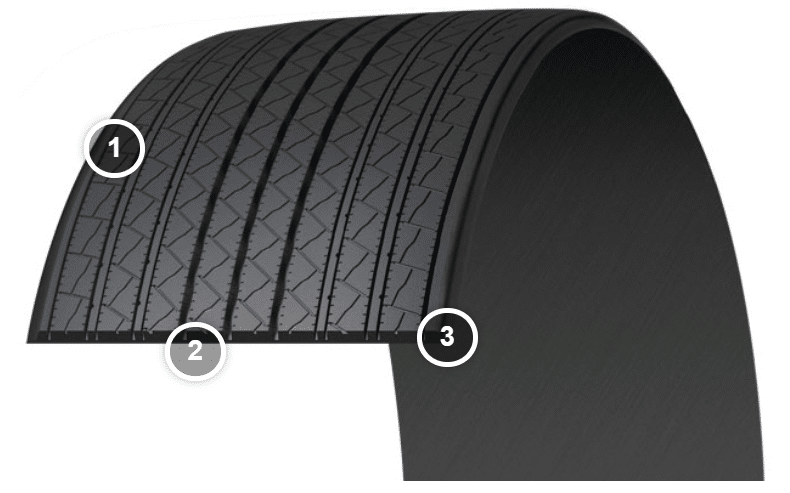 Michelin X ONE XTA Custom Mold Retread /Recap
REFERENCE MATERIALS - DOCUMENTS
Michelin X ONE® XTA® Custom Mold Retread / Recap Product Sheet
Michelin X One® Tire Brochure
Michelin Retread Technologies Quick Reference Tread Guide
Michelin Retread Technologies, Inc. National Limited Warranty
Michelin Truck Tire Data Book
Technical specification
| | |
| --- | --- |
| Casing size | 445/50R22.5 |
| Tread Depth | 13/32 nds |
| MSPN | 14847 |
Mold Cure Process
The application of tread in a mold cure retreading process is very similar to that in the new tire manufacturing process. Uncured tread rubber is applied to a buffed casing. The prepared casing, built to the correct diameter with uncured rubber, is now ready to be place in the mold for curing. Custom-Mold is not available at all MRT locations. Only available in select geographic areas.
* Based on industry standard rolling resistance testing of comparable tires & retreads. Actual results may vary, and may be impacted by many factors, to include road conditions, weather and environment, driver performance, etc.
** Based on internal tests against SmartWay® requirements.
*** Tread widths with two measurements have wings. The first number is tread base width in mm. The second number is the overall width, wing tip to tip.
* Based on internal tests against SmartWay® requirements. For more information on SmartWay® verified technologies, go to US: www.epa.gov/smartway or CA: https://www.nrcan.gc.ca.