MICHELIN
XDHT® Custom Mold Retread
Drive position retread designed for line haul and regional applications.
WHAT IS RETREAD / RECAP?
The XDHT® Custom Mold Retread, sometimes referred to as a recap, recapped tire or remold, is a tire tread used in the remanufacturing process of a worn tire. Utilizing Michelin Retread Technologies' 9-step manufacturing process ensures retreaded or recapped tires meet new-tire manufacturing standards – protecting your bottom line and the planet. Having your fleet's tires retreaded or recapped can help reduce the millions of tires that end up in landfills annually. Click here to find a Michelin Retread tire dealer near you.
WHY THIS RETREAD ?
Solid shoulder design optimized for high scrub applications.
Block design optimized for high torque operations.
Also available as a Pre-Mold retread.
23/32nds original tread depth
1. Optimized Deep Tread
Long, Even Tread Life – Designed for long mileage and even wear.
2. Solid Shoulder
Long Tread Life – Shoulder design optimized for long, smooth wear.
3. Block Design
Driver Confidence – Block design optimized for high torque applications.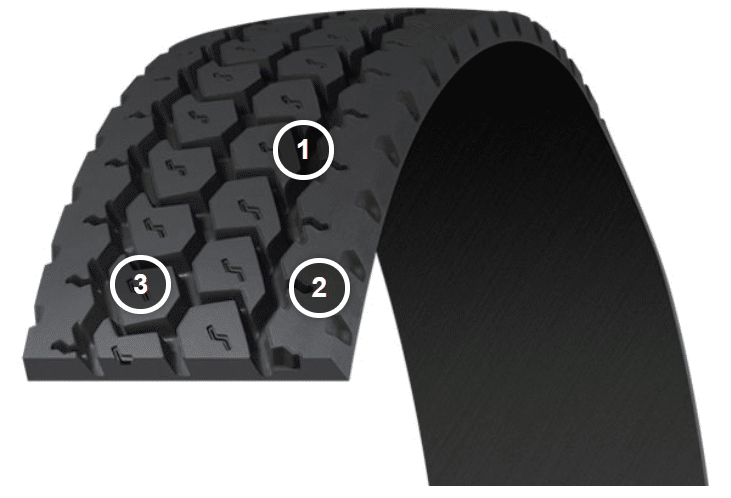 Michelin XDHT Custom Mold Retread / Recap
REFERENCE MATERIALS - DOCUMENTS
MICHELIN® XDHT® Custom Mold Retread
MICHELIN® Truck Tire Data Book
Michelin Retread Technologies Quick Reference Tread Guide
Michelin Retread Technologies, Inc. National Limited Warranty
Technical specification
| | |
| --- | --- |
| Casing size | 11R22.5 |
| Tread Depth | 23/32 nds |
| MSPN | 69592 |
Mold Cure Process
The application of tread in a mold cure retreading process is very similar to that in the new tire manufacturing process. Uncured tread rubber is applied to a buffed casing. The prepared casing, built to the correct diameter with uncured rubber, is now ready to be place in the mold for curing. Custom-Mold is not available at all MRT locations. Only available in select geographic areas.
* Based on internal tests against SmartWay® requirements. For more information on SmartWay® verified technologies, go to US: www.epa.gov/smartway or CA: https://www.nrcan.gc.ca.