MICHELIN
XTA® Pre-Mold Retread
Trailer position retread designed to deliver good, all-purpose performance in line haul and regional applications.
WHAT IS RETREAD / RECAP?
Retread tires, sometimes referred to as a recap, recapped tire or remold, can help protect your bottom line and the planet. The XTA® Pre-Mold Retread is a tire tread used in the remanufacturing process of a worn tire. Utilizing Michelin Retread Technologies' 9-step manufacturing process ensures retreaded or recapped tires meet new-tire manufacturing standards. Having your fleet's tires retreaded or recapped can help reduce the millions of tires that end up in landfills annually. Click here to find a Michelin Retread tire dealer near you.
WHY THIS RETREAD?
Excellent stability.
Good resistance in high scrub operations.
16/32nds original tread depth.
1. Optimized Deep Tread
Long, Even Tread Life – Designed for long mileage and even wear.
2. Application Specific Compounds
General Purpose Performance – Excellent Stability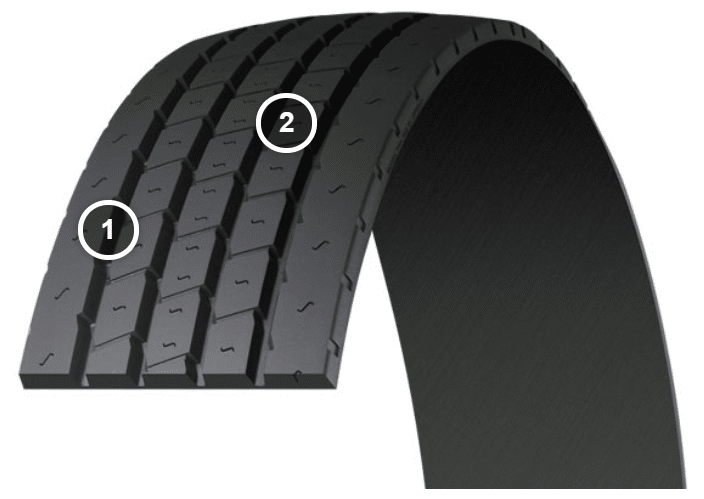 Michelin XTA Pre-Mold Retread / Recap
REFERENCE MATERIALS - DOCUMENTS
MICHELIN® XTA® Pre-Mold Retread Product Sheet
MICHELIN® Truck Tire Data Book
Michelin Retread Technologies Quick Reference Tread Guide
Michelin Retread Technologies, Inc. National Limited Warranty
Technical specification
| | |
| --- | --- |
| Casing size | 11.00R20 |
| Tread Width | 240 mm |
| Tread Depth | 16/32 nds |
| MSPN | 73892 |
Pre Mold Process
Also known as a "pre-cure" process. Tread rubber used in this process is molded and pre-cured by the tread rubber manufacturer, Michelin Retread Technologies (MRT). The appropriate tread is selected – design, width, thickness – and applied to a prepared casing. The casing is prepared by placing a cushion gum bonding layer between the tread and casing. The tire then moves to the chamber for curing.
* Based on internal tests against SmartWay® requirements. For more information on SmartWay® verified technologies, go to US: www.epa.gov/smartway or CA: https://www.nrcan.gc.ca.