MICHELIN
XZU®2 Pre-Mold Retread
All-position retread optimized for operations involving frequent stopping and starting, e.g., transit buses*, delivery vehicles and sanitation trucks.
WHAT IS RETREAD / RECAP?
Sometimes referred to as a recap, recapped tire or remold, retread is a tire tread used in the remanufacturing process of a worn tire. The XZU®2 Pre-Mold Retread utilizes Michelin Retread Technologies' 9-step manufacturing process to ensure retreaded or recapped tires meet new-tire manufacturing standards ­– protecting your bottom line and the planet. Having your fleet's tires retreaded or recapped can help reduce the millions of tires that end up in landfills annually. Click here to find a Michelin Retread tire dealer near you.
WHY THIS RETREAD?
Solid shoulder design optimized for long, smooth wear.
Co-Ex technology, unique two layer compound designed to minimize casing temperature for longer casing life.
Fuel efficient compound to help contribute to greater fuel saving.**
24/32nds original tread depth
1. Proprietary Compound
Long Service Life – Designed to help deliver long mileage and minimize internal casing temperatures.
2. Fuel Efficient Compound**
Fuel Efficient Operation – Low rolling resistance
3. Optimized Deep Tread
Long, Even Tread Life – Designed for long mileage and even wear.
4. Solid Shoulder
Long Tread Life – Shoulder design optimized for long, smooth wear.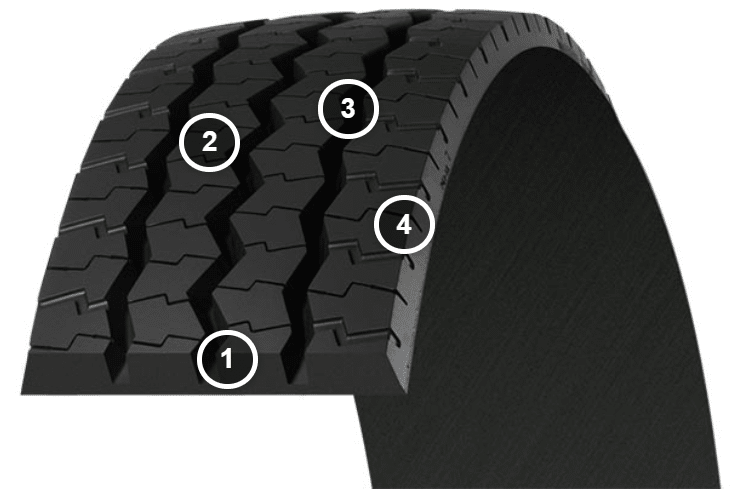 Michelin XZU 2 Pre-Mold Retread / Recap
REFERENCE MATERIALS - DOCUMENTS
MICHELIN® XZU®2 Pre-Mold Retread Product Sheet
MICHELIN® Truck Tire Data Book
Michelin Retread Technologies Quick Reference Tread Guide
Michelin Retread Technologies, Inc. National Limited Warranty
Technical specification
| | |
| --- | --- |
| Casing size | 11R22.5 |
| Tread Width | 240 mm |
| Tread Depth | 24/32 nds |
| MSPN | 16220 |
Pre Mold Process
Also known as a "pre-cure" process. Tread rubber used in this process is molded and pre-cured by the tread rubber manufacturer, Michelin Retread Technologies (MRT). The appropriate tread is selected – design, width, thickness – and applied to a prepared casing. The casing is prepared by placing a cushion gum bonding layer between the tread and casing. The tire then moves to the chamber for curing.
* "No bus shall be operated with regrooved, recapped or retreaded tires on the front wheels." US Code of Federal regulations: Titel 49, Transportation; Part 393.75.
"No regrooved, recapped or retreaded tire shall be on the front steering axle of any bus." Canadian Council Motor Transport Association's National Safety Code 11 Part B for Periodic Commercial Motor Vehicle Inspections (PMVI) – Section 9.
** Based on industry standard rolling resistance testing of comparable tires and retreads. Actual results may vary, and may be impacted by many factors, to include road conditions, weather and environment, driver performance, etc.
* Based on internal tests against SmartWay® requirements. For more information on SmartWay® verified technologies, go to US: www.epa.gov/smartway or CA: https://www.nrcan.gc.ca.