MICHELIN® ENERGY GUARD AERODYNAMIC SOLUTIONS
MAXIMIZE FUEL SAVINGS. MINIMIZE MAINTENANCE EXPENSES. NO MOVING PARTS.
The MICHELIN® Aerodynamic Solutions durable, fully integrated Energy Guard Solution provides results you can believe by controlling vehicle airflow and delivering significant fuel savings.
aerodynamic truck bullets desktop
THE ENERGY GUARD COMPONENTS ARE OPTIMIZED TO WORK TOGETHER AS A SOLUTION:
1. RESILIENT, FULLY FLEXIBLE TRAILER SKIRT
Patented advanced trailer skirt provides stiffness without sacrificing durability. This skirt can flex and bend around objects and bounce right back into place.
5. AERODYNAMIC MUD FLAPS
Patent-pending, angled and progressive louvers. Reduces vehicle drag and road spray.
2. REVOLUTIONARY, PATENT-PENDING BRACKET AND SLIDER DESIGN
Reduces load on skirt panels to take full advantage of tough skirt materials.
3. DRAG-REDUCING TRAILER END FAIRINGS
Patent-pending design for top and side of trailer to accelerate and then turn airflow around the back of the trailer. No required cutouts for hinges and no overhang.
4. INNOVATIVE WAKE REDUCER
Patent-pending, rear-facing spoiler for swing and roll-up doors. Reduces the size and effect of the primary recirculation zone behind the trailer. Unlike a boat tail, the wake reducer is always deployed and no driver interaction is required.
EXPERIENCE ENERGY GUARD IN ACTION
MICHELIN® Aerodynamic Solutions
MICHELIN® Energy Guard Resilient Trailer Skirt
MICHELIN® Energy Guard Aerodynamic Mud Flaps
RESULTS YOU CAN BELIEVE
1. DESIGNED FOR BEST-IN-CLASS FUEL SAVINGS
7.4% fuel economy improvement1–initial Michelin test results for average fleets
MVT Solutions Certified™ Fuel Economy Test results showed improvement For Fuel‑Efficient Fleets2:
37.85L/1600Km • 0.36 Km/L • PERCENT: 8.75%
"...The MICHELIN® Energy Guard aerodynamic kit has the potential to be a game-changing solution for fleets."
- DARYL BEAR, LEAD ENGINEER & COO MVT SOLUTIONS, LLC
2. DRIVER SATISFACTION
Hassle-free, always deployed
No driver interaction required
3. ENVIRONMENTALLY FRIENDLY
SmartWay® verified
CARB compliant
4. RECOGNIZED FOR INNOVATION
1) 7.4% fuel savings when driving 65 MPH. Expected fuel savings based on commissioned, third-party simulation (CFD) and SAE J1321 track testing when compared to trailer with no aerodynamic devices.
2) Estimated fuel savings at 65mph based on commissioned, third-party MVT Solutions Certified™ testing procedure on a modern Class 8 truck with a 53' trailer compared to a trailer with no aerodynamic devices.
HEAR HOW ENERGY GUARD DELIVERS REAL RESULTS FOR FLEETS
Michelin Energy Guard Leads to Fuel Savings
C&S Grocers Finds Tangible ROI with Aerodynamic Solutions
MICHELIN® Energy Guard Aerodynamic Solution Delivers Outstanding Fuel Savings
REQUEST MORE INFORMATION
Learn more about the MICHELIN® Energy Guard Aerodynamics Solution by entering your information.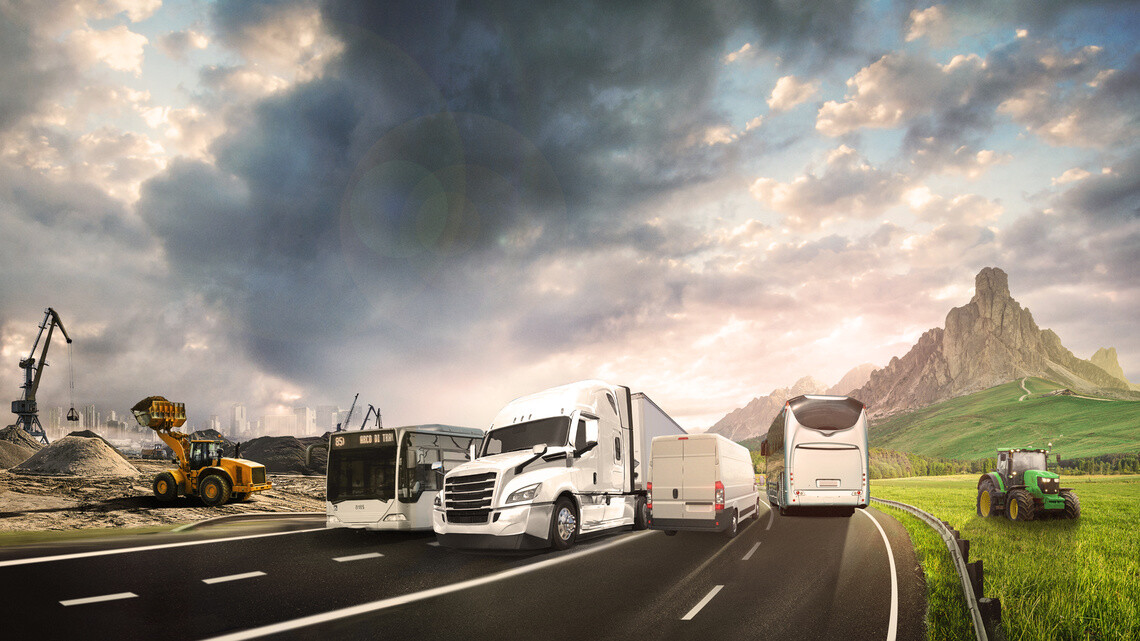 Edito contact us Tire
On The Move, Truck, Truck on the road.
Submission Confirmed! Your message has been submitted.
Thank you for contacting Michelin

By providing my email address and clicking the button below, I agree to the Terms of use and Privacy Policy, provide my electronic signature, and consent to receive automated marketing emails, regardless of any previous registration on any company, Provincial or National opt-out list from Michelin North America, Inc. Consent is not a condition of any purchase. You may opt out any time. A Michelin representative may contact you if you express interest in being contacted in regards to a product or service offer. The Representative could be your local Michelin Sales Representative or a Michelin Authorized Dealer in your area.
* Required Field
Michelin respects your privacy. The information that you send to us is protected by our privacy policy.