All Terrain, airless radial tires for skid steers and light construction equipment
MICHELIN® X® TWEEL® SSL 2 All Terrain
MICHELIN® X® TWEEL® SSL All Terrain 2-Piece Hub
• Productivity
• Excellent Driver Comfort
• Long Product Life


PRODUCTIVITY
• No downtime due to flat tires
• Outstanding stability contributes to high machine productivity

EXCELLENT DRIVER COMFORT
• Unique spoke design helps reduce "bounce" and driver fatigue associated with pneumatic tires

LONG PRODUCT LIFE
• Consistent footprint, with tread designed to last 2-3 times longer than a pneumatic tire at equal tread depth, and capable of being retreaded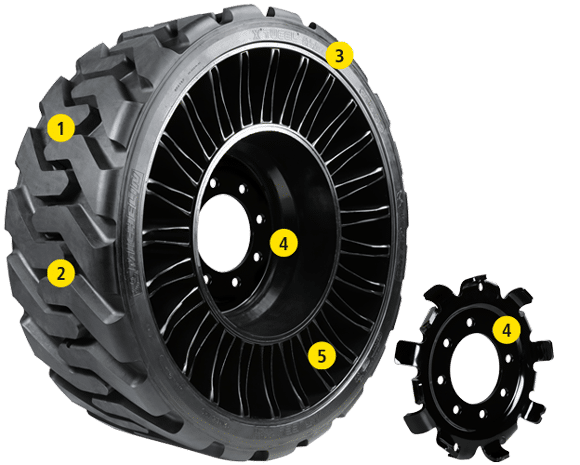 tweel ssl2 at typical construction
1. Deep open tread (AT) designed for excellent cleaning and traction. A deep layer of undertread means the core can be retreaded again and again.
2. Zero degree belts (under the tread) and proprietary design provide great lateral stiffness, while resisting damage and absorbing impacts.
3. Michelin's proprietary Comp10 Cable™ forms a semi-rigid "shear beam", and allows the load to hang from the top.
4. Universal, 8 hole, interlocking heavy gauge steel hub for robust attachment to the machine.
5. High strength, poly-resin spokes carry the load and absorb impacts, help dampen the ride, and provide a unique energy transfer that reduces pneumatic bounce.
2-PIECE HUB MODEL WITH ADAPTERS TO FIT A VARIETY OF EQUIPMENT
1. Fits front of Case backhoe loader machines
2. Fits some Bobcat machines
3. Used to change offset on 8 x 8.0" standard fitment size
4. Fits some truck mounted forklifts
5. Blank for custom applications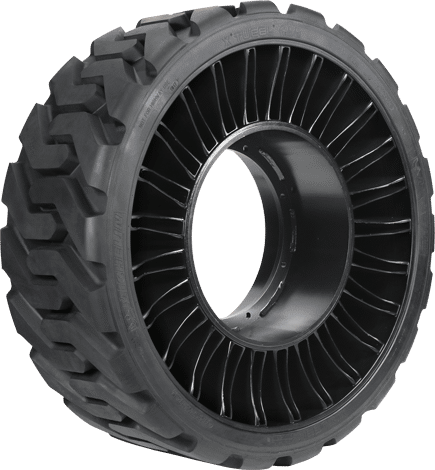 Michelin X® TWEEL™ SSL AT 2-Piece Hub
MICHELIN® X® TWEEL® SSL 2 IN ACTION
MICHELIN® X® TWEEL® SSL 2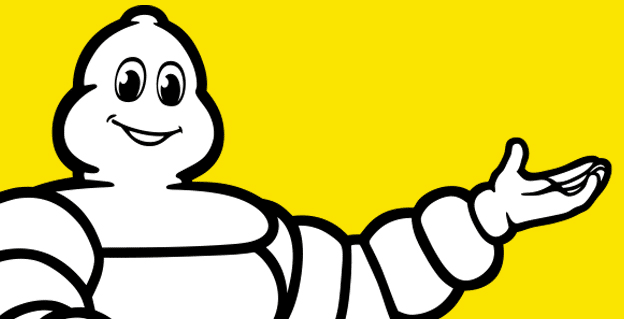 See More…
Download the product sheet for technical data and information on our warranties…
Technical Specifications
| | |
| --- | --- |
| Product | MICHELIN TWEEL SSL ALL TERRAIN - 10N16.5 |
| M+S | No |
| 3PMSF | No |
| RFID | No |
| CAI | 817393 |