MICHELIN
X® LINE ENERGY D
SmartWay® verified fuel economy with leading tread life and traction in an energy drive tire for line haul applications.
WHY THIS TIRE?
SmartWay® verified fuel efficiency due to reduced rolling resistance from the Dual Energy Compound tread.
Extended mileage from the wear resistance of the wider footprint, Matrix siping, and Dual Energy Compound tread.
Driver confidence from the excellent traction and stability provided by Matrix Siping.
Warrantied retreadability provided by an enhanced inner liner and strengthened bead area for reduced casing fatigue and maximum retreadability.
1. Full-Width Elastic Protector Ply
Casing Durability – Helps protect the working plies from bruising and penetrations, and downtime.
2. Dual Energy Compound Tread
No Compromise Fuel Efficiency and Tread Life – Delivers 20% longer tread life than MICHELIN® XDA® ENERGY tire thanks to the Dual Energy Compound Tread, with a top Mileage layer for long mileage and a bottom, cool running, fuel and durability layer.
3. Matrix Siping
Traction and Even Wear – Full depth, interlocking sipes with zig-zag walls to provide thousands of biting edges for traction, and lug-like performance for even wear.
4. Rectangular Bead Bundle
Casing Durability – Simulates a solid steel rod "strapping" the tire onto the wheel. This design stabilizes the entire bead region and minimizes fatigue in order to extend casing life.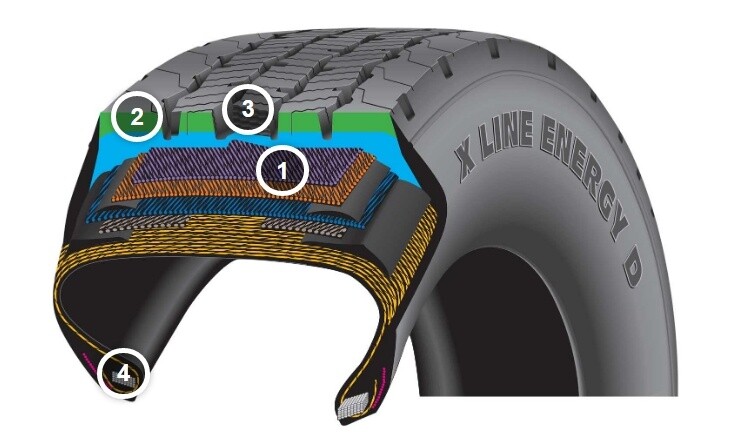 MICHELIN Picto x line energy d Tire
Introducing the MICHELIN® X® LINE™ ENERGY D Tire
REFERENCE MATERIALS - DOCUMENTS
MICHELIN® X® LINE ENERGY D
Product Sheet
7 year/ 1 130 000 kilometers/ 3-retread Casing Guarantee
MICHELIN® Truck Tire Warranty
MICHELIN® Truck Tire Data Book
MICHELIN® Truck Tire Reference Chart
RELATED SERVICES AND SOLUTIONS
Technical Specifications
| | |
| --- | --- |
| Product | MICHELIN X LINE ENERGY D - 11R22.5 |
| Overall Diameter | 1050 mm / 41.3 inch |
| Recommended Wheels | 8.25 |
| Approved Wheels | 7.5 |
| Min Dual Spacing | 318 mm / 12.5 inch |
| Tread depth | 23 32nds / 18.3 mm |
| Max Speed | 75 mph / 121 kmh |
| Max Load per Tire Single | 6175 lbs / 2800 kg |
| Loaded Radius | 493 mm / 19.4 inch |
| Seat diameter | 22.5 |
| Suitable for RV | No |
| CAI | 308290 |
| MSPN | 35887 |