MICHELIN
X ONE® LINE ENERGY D Pre-Mold Retread
SmartWay® fuel economy* with long tread life and excellent traction in a line haul energy drive retread.
WHAT IS RETREAD / RECAP?
The X ONE® LINE ENERGY D Pre-Mold Retread, sometimes referred to as a recap, recapped tire or remold, is a tire tread used in the remanufacturing process of a worn tire. Utilizing Michelin Retread Technologies' 9-step manufacturing process ensures retreaded or recapped tires meet new-tire manufacturing standards – protecting your bottom line and the planet. Having your fleet's tires retreaded or recapped can help reduce the millions of tires that end up in landfills annually. Click here to find a Michelin Retread tire dealer near you.
WHY THIS RETREAD?
SmartWay® fuel economy with long tread life and excellent traction in a line haul energy drive retread.
22/32nds original tread depth
Maximum shoulder adhesion is delivered with a winged tread feature.
Driver confidence comes from the use of Matrix Siping, with its full depth, interlocking sipes providing thousands of biting edges for traction.
1. Dual Energy Compound Tread
No Compromise Fuel Efficiency and Tread Life – Delivers a top Fuel and Mileage layer that balances wear and fuel properties, over a cool running Fuel and Durability layer for reduced rolling resistance and extended casing life.
2. Matrix Siping
Traction and Even Wear – Full depth, interlocking sipes with zig-zag walls to provide thousands of biting edges for traction, and lug-like performance for even wear.
3. Winged Tread**
Shoulder Adhesion – Winged tread provides maximum tread-to-shoulder adhesion in high scrub applications.
4. Optimized Deep Tread
Long, Even Tread Life – Designed for long mileage and even wear.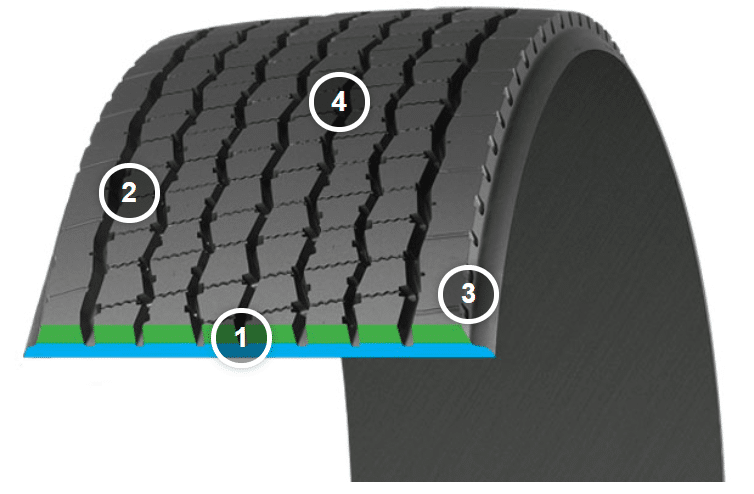 Michelin X ONE LINE ENERGY D Retread / Recap
REFERENCE MATERIALS - DOCUMENTS
MICHELIN® X ONE® LINE ENERGY D Pre-Mold Retread Product Sheet
MICHELIN® X One® Tire Brochure
MICHELIN® SmartWay Retreads
Michelin Retread Technologies, Inc. National Limited Warranty
Michelin Retread Technologies Quick Reference Tread Guide
MICHELIN® Truck Tire Data Book
Technical specification
| | |
| --- | --- |
| Casing size | 445/50R22.5 |
| Tread Width | 375 mm |
| Tread Depth | 22/32 nds |
| MSPN | 88700 |
Pre Mold Process
Also known as a "pre-cure" process. Tread rubber used in this process is molded and pre-cured by the tread rubber manufacturer, Michelin Retread Technologies (MRT). The appropriate tread is selected – design, width, thickness – and applied to a prepared casing. The casing is prepared by placing a cushion gum bonding layer between the tread and casing. The tire then moves to the chamber for curing.
* Based on industry standard rolling resistance testing of comparable drive tires and retreads. Actual results may vary, and may be impacted by many factors, to include road conditions, weather and environment, driver performance, etc.
** Tread widths with two measurements have wings. The first number is tread base width in mm. The second number is the overall width, wing tip to tip.
* Based on internal tests against SmartWay® requirements. For more information on SmartWay® verified technologies, go to US: www.epa.gov/smartway or CA: https://www.nrcan.gc.ca.