oncall logo--margin-right
MICHELIN® ONCall saves time for fleets traveling through
Managing breakdowns can often feel like a test of faith. When your truck is stranded, where do you turn for quality service you can trust?
NEED ASSISTANCE?
One call: ONCall
1-800-TIRE911
1-800-847-3911
Select Option 1 for Tires
Select Option 2 for Mechanical and Towing
Have peace of mind on the road and fight downtime with the reliable service of MICHELIN® ONCall.
Coast-to-coast coverage
Two-hour or less roll-time target
No dispatch fee
Consistent service pricing
Key sizes stocked
Audited, standardized tools and procedures
TIA-Certified Technicians
VMRS (Vehicle Maintenance Reporting Standards) for reports generated specifically for tire services
Submitting an event is easier than ever with the Online Dispatch tool*
Access to detailed tracking and reporting online
*Online Dispatch tool is accessible on MichelinB2B.com. This feature is not available for credit card customers.
Take advantage of direct access to diesel technicians, available 24/7.
Road repair
Lockouts
Fuel delivery
Lights
Pull or jump-starts
Brake repair
Suspension repair
VMRS*
*Vehicle Maintenance Reporting Standards is the industry-standard coding convention for equipment cost reporting. VMRS reports (only for mechanical services) are available on MichelinB2B.com.
We provide access to towing from a trusted Michelin partner.
Light-, medium- and heavy-duty towing
Rotators
Lowboys
Abandoned truck secure, store and clean
Secured storage
Winching
Event monitoring – Follow every breakdown with real-time dispatch screen views. No matter where you are, LiveTrack can take you there virtually.
Sit in the dispatcher's seat
See everything as it happens
No more waiting until after service is completed
Have confidence in your ETA to share with YOUR customer
If you have a mobile phone or computer, you can access pictures of your serviced tires. No more questions. 100% proof of product and service.
Pictures included*
Know the right service was done
See tire damage
Photos are taken at the site of the breakdown and geocoded
*Pictures only available when service is performed by a MICHELIN® Commercial Service Network dealer.
Access details of your service call history through case-specific online reports for tire service, mechanical and towing.
Status
Vehicle number
ETA and roll-time
Event records, details and transcript
Email notification of service completion
Events by servicing dealer
FIXPIX images
MICHELIN® ONCALL PROVIDES AN END-TO-END SOLUTION FOR BREAKDOWNS, WITH EMPHASIS ON THE FOLLOWING:

Single Resource for All Your Needs
Whether you need full emergency dispatch management, or just an overflow solution, MICHELIN® ONCall provides access to industry-savvy dispatch agents for all types of unplanned maintenance and breakdowns.
Nationwide Network
Our network consists of over 2,000 service providers across the U.S. and Canada that are regularly audited for service quality and performance. We will dispatch the best-performing dealer in the area to ensure your fleet's specific needs are met, no matter where the breakdown occurs.
Consistency and Speed
Our agents and service providers use innovative software and standardized tools and procedures to ensure quality and consistency. Our two-hour, roll-time target begins the moment we receive your call.
Real-Time Event Reporting
As a MICHELIN® ONCall customer, fleets can access the LiveTrack Dashboard to see live updates from the minute the agent answered the phone until the truck is rolling and the case is closed.
*Pictures only available when service performed by a MICHELIN® Commercial Service Network Dealer.
REQUEST MORE INFORMATION
Learn more about MICHELIN® ONCall by entering your information.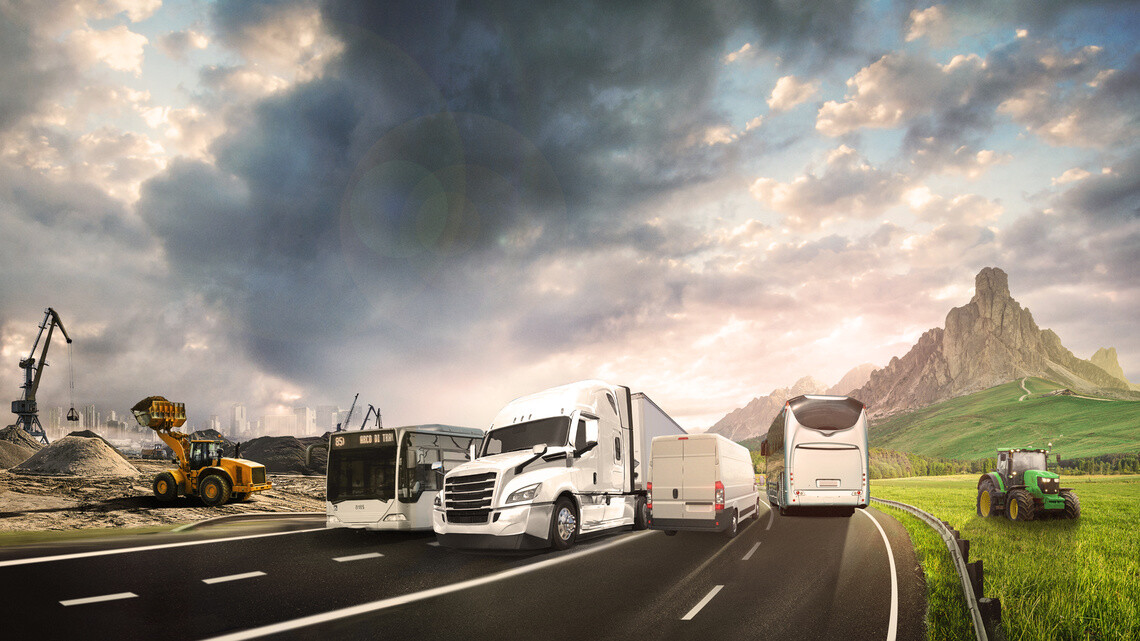 Edito contact us Tire
On The Move, Truck, Truck on the road.
Submission Confirmed! Your message has been submitted.
Thank you for contacting Michelin

By providing my email address and clicking the button below, I agree to the Terms of use and Privacy Policy, provide my electronic signature, and consent to receive automated marketing emails, regardless of any previous registration on any company, Provincial or National opt-out list from Michelin North America, Inc. Consent is not a condition of any purchase. You may opt out any time. A Michelin representative may contact you if you express interest in being contacted in regards to a product or service offer. The Representative could be your local Michelin Sales Representative or a Michelin Authorized Dealer in your area.

* Required Field
Michelin respects your privacy. The information that you send to us is protected by our privacy policy.