MICHELIN
XZE 2™ Standard Sizes
Exceptional regional, all-position radial with extra-wide, extra-deep tread designed to help deliver our best wear in high scrub regional and urban applications.
WHY THIS TIRE?
Enhanced application-specific compound to help promote resistance to aggressions and longer tread life.
6% wider tread for improved wear and handling (when compared to MICHELIN® XZE® tire).
Matrix and micro sipes protect against irregular wear.
Zig-zag grooves and sipes help increase traction in new and worn tire conditions.
North American design.
1. Application Specific Compounds
Long Tread Life – Promotes resistance to aggressive scrub conditions.
2. Rib Edge Micro Sipes
Long Tread Life – Protects against the early onsite of irregular wear.
3. Wide Tread Design
Long Tread Life – Distributes force over a larger contact area.
4. Rectangular Bead Bundle
Casing Durability – Simulates a solid steel rod "strapping" the tire onto the wheel. This design stabilizes the entire bead region and minimizes fatigue in order to extend casing life.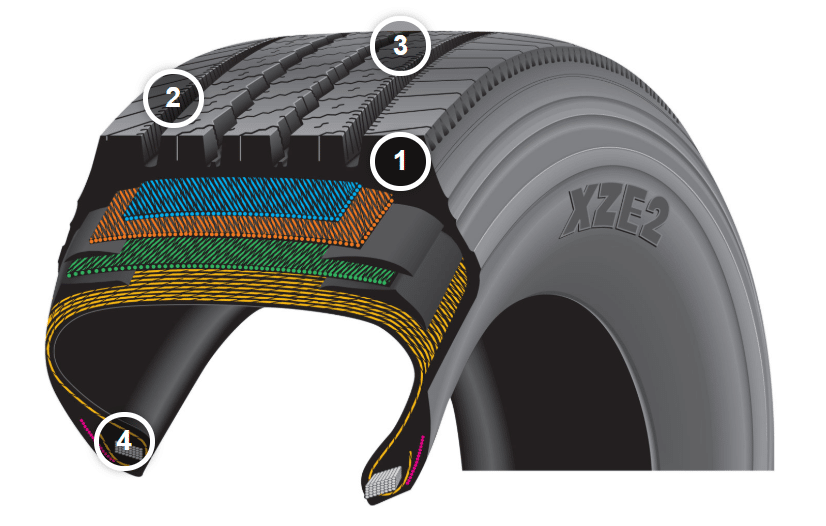 michelin edito xze 2 standard sizes tire
REFERENCE MATERIALS - DOCUMENTS
RELATED SERVICES AND SOLUTIONS
MICHELIN ONCall: Breakdown assistance for your fleet.
Have peace of mind 24/7 while on the road and fight downtime with the reliable service of MICHELIN. Discover our breakdown assistance solution that combines simplicity, speed, efficiency and transparency.
MICHELIN MECHANICAL CARE: Worry less about your fleet's maintenance.
Combine and outsource all your tire and light mechanical maintenance needs, leveraging the MICHELIN® Commercial Service Network you already trust.
MICHELIN TIRE CARE: Save money. Save time.
Customizable tire maintenance and reporting service that helps reduce road service calls, improves CSA scores and optimizes fleet safety and performance.
Technical Specifications
| | |
| --- | --- |
| Product | MICHELIN XZE 2 - 11R22.5 |
| Overall Diameter | 41.4 inch |
| Recommended Wheels | 8.25 |
| Approved Wheels | 7.50 |
| Min Dual Spacing | 318 mm |
| Tread depth | 22 inch |
| Max Speed | 75 |
| Max Load per Tire Single | 6610 lbs |
| Loaded Radius | 488.5 mm / 19.2 inch |
| Suitable for RV | Yes |
| CAI | 692442 |
| MSPN | 67042 |
Retread Offer
| Retread Name | Position | Application | Tread Depth |
| --- | --- | --- | --- |
| MICHELIN XZA - 11R22.5 | Z | line haul, regional | 13 inch |
| MICHELIN XZA - 11R22.5 | Z | line haul, regional | 20 inch |
| MICHELIN XZA - 11R22.5 | Z | line haul, regional | 15 inch |
| MICHELIN XZA - 11R22.5 | Z | line haul, regional | 15 inch |
| MICHELIN XZA - 11R22.5 | Z | line haul, regional | 13 inch |
| MICHELIN XZA - 11R22.5 | Z | line haul, regional | 15 inch |
| MICHELIN XZA - 11R22.5 | Z | line haul, regional | 15 inch |
| MICHELIN XZA - 11R22.5 | Z | line haul, regional | 15 inch |
| MICHELIN XZA Siped - 11R22.5 | Z | line haul, regional | 13 inch |
| MICHELIN XZA Siped - 11R22.5 | Z | line haul, regional | 15 inch |
| MICHELIN XZA Siped - 11R22.5 | Z | line haul, regional | 15 inch |
| MICHELIN XZA Siped - 11R22.5 | Z | line haul, regional | 15 inch |
| MICHELIN XZA Siped - 11R22.5 | Z | line haul, regional | 15 inch |
| MICHELIN XZA Siped - 11R22.5 | Z | line haul, regional | 15 inch |
| MICHELIN XZE 2 - 11R22.5 | Z | regional | 20 inch |
| MICHELIN XZE 2 - 11R22.5 | Z | regional | 20 inch |
| MICHELIN XZE Siped - 11R22.5 | Z | line haul, regional | 18 inch |
| MICHELIN XZE Siped - 11R22.5 | Z | line haul, regional | 18 inch |
| MICHELIN XZE Siped - 11R22.5 | Z | line haul, regional | 18 inch |
| MICHELIN XZE Siped - 11R22.5 | Z | line haul, regional | 18 inch |
| MICHELIN XZU 2 - 11R22.5 | Z | urban | 24 inch |
| MICHELIN XZU 2 - 11R22.5 | Z | urban | 24 inch |
| MICHELIN XZU S - 11R22.5 | Z | urban | 26 inch |
| MICHELIN XZU S - 11R22.5 | Z | urban | 26 inch |
| MICHELIN XZU S - 11R22.5 | Z | urban | 26 inch |
| MICHELIN XZU S - 11R22.5 | Z | urban | 26 inch |