All weather, directional, premium drive tire optimized for exceptional traction and mileage in line haul and regional applications.
WHY THIS TIRE?
Michelin's Matrix siping technology helps provide exceptional traction on dry and slippery surfaces. Over 1,300 biting edges combine to help provide excellent levels of traction while the 3 dimensional Matrix sipes lock together for the stability normally associated with solid tread blocks.
Extra-wide tread (nearly 1" wider than MICHELIN® XDN® tire) helps provide stability while helping to improve handling and mileage.
Full 28/32 tread depth helps provide long original tread life.
Wide, open shoulder grooves help deliver additional traction balanced with tread life.
1. Matrix Siping
Traction and Even Wear – Full depth, interlocking sipes with zig-zag walls to provide thousands of biting edges for traction, and lug-like performance for even wear.
2. Wide Open Shoulder Grooves
Driver Confidence – Helps deliver traction without compromising tread life.
3. Wide Tread Design
Long Tread Life – Distributes force over a larger contact area.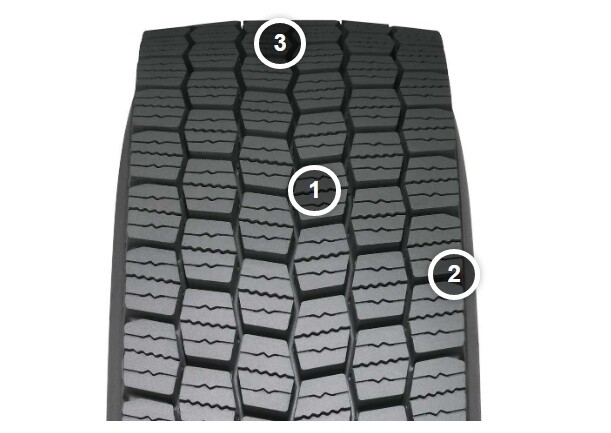 REFERENCE MATERIALS - DOCUMENTS
RELATED SERVICES AND SOLUTIONS
Technical Specifications
| | |
| --- | --- |
| Product | MICHELIN XDN2 GRIP - 315/80R22.5 |
| Overall Diameter | 1094 mm / 43.1 inch |
| Recommended Wheels | 9.00 |
| Approved Wheels | 9.75 |
| Min Dual Spacing | 351 mm / 13.8 inch |
| Tread depth | 27.715599060058594 32nds / 22.0 mm |
| Max Speed | 75 mph / 121 kmh |
| Max Load per Tire Single | 9090 lbs / 4125 kg |
| Loaded Radius | 507 mm / 20 inch |
| Seat diameter | 22.5 |
| Suitable for RV | No |
| CAI | 338056 |
| MSPN | 04355 |
Retread Offer
| Retread Name | Position | Application | Tread Depth |
| --- | --- | --- | --- |
| MICHELIN X Multi D - 315/80R22.5 | D | Regional Transport, Urban Transport | 28/32 nds |
| MICHELIN X Multi Energy D - 315/80R22.5 | D | Regional Transport | 21/32 nds |
| MICHELIN XD4 - 315/80R22.5 | D | Line Haul, Regional Transport | 28/32 nds |
| MICHELIN XDC 22 - 315/80R22.5 | D | Line Haul, Regional Transport | 22/32 nds |
| MICHELIN XDE M/S - 315/80R22.5 | D | Regional Transport | 22/32 nds |
| MICHELIN XDHT - 315/80R22.5 | D | Line Haul, Regional Transport | 23/32 nds |
| MICHELIN XDHT - 315/80R22.5 | D | Line Haul, Regional Transport | 23/32 nds |
| MICHELIN XDHT - 315/80R22.5 | D | Line Haul, Regional Transport | 23/32 nds |
| MICHELIN XDHT Siped - 315/80R22.5 | D | Line Haul, Regional Transport | 23/32 nds |
| MICHELIN XDN 2 - 315/80R22.5 | D | Line Haul, Regional Transport | 27/32 nds |
| MICHELIN XDN 2 - 315/80R22.5 | D | Line Haul, Regional Transport | 27/32 nds |
| MICHELIN XDN 2 - 315/80R22.5 | D | Line Haul, Regional Transport | 27/32 nds |
| MICHELIN XDN 2 - 315/80R22.5 | D | Line Haul, Regional Transport | 27/32 nds |
| MICHELIN XDN 2 - 315/80R22.5 | D | Line Haul, Regional Transport | 27/32 nds |
| MICHELIN XDN 2 - 315/80R22.5 | D | Line Haul, Regional Transport | 27/32 nds |
| MICHELIN XDS2+ - 315/80R22.5 | D | Regional Transport, Urban Transport | 25/32 nds |
| MICHELIN XDS2+ - 315/80R22.5 | D | Regional Transport, Urban Transport | 25/32 nds |
| MICHELIN XDS2+ - 315/80R22.5 | D | Regional Transport, Urban Transport | 25/32 nds |
| MICHELIN XDS2+ - 315/80R22.5 | D | Regional Transport, Urban Transport | 25/32 nds |
| MICHELIN XDS2+ - 315/80R22.5 | D | Regional Transport, Urban Transport | 25/32 nds |
| MICHELIN XDS2+ - 315/80R22.5 | D | Regional Transport, Urban Transport | 25/32 nds |
| MICHELIN XM+S4 - 315/80R22.5 | D | Line Haul, Regional Transport | 21/32 nds |