The drive axle radial for year-round traction and optimized for severe winter conditions in regional and on/off road applications.
WHY THIS TIRE?
Rugged directional tread design helps boost snow and ice traction and helps reduce heel/toe wear typically associated with open shoulder designs.
Full-width zigzag sipes interlock to enhance block stability under torque while helping to provide extra bite, especially in deep snow.
Deep V-shaped lateral shoulder grooves help to maximize mud and snow evacuation.
Extra-robust four-belt crown package with extra-wide working plies help deliver exceptional casing life.
Full-width elastic protector ply and extra-thick rubber under the tread help protect the working plies from shocks, bruises and impacts.
1. Optimized Tread Design
Driver Confidence – Outstanding traction in snow and ice conditions.
2. Open Shoulder
Traction – Wide open shoulder grooves help deliver traction without compromising tread life.
3. Shock Pad
Casing Durability – Delivers extra protection for the working plies.
4. V-Shaped Transverse Shoulder Grooves
Driver Confidence – Promotes stone, mud, and snow evacuation.
5. Four-Belt Casing Design
Casing Durability – Delivers exceptional casing strength and stability to minimize downtime and deliver outstanding retreadability for low overall tire costs.
6. Curb Guards
Casing Durability – Help protect sidewalls against most impacts and abrasions for long casing life.
7. Full-Width Elastic Protector Ply
Casing Durability – Helps protect the working plies from bruising and penetrations, and downtime.
8. Rectangular Bead Bundle
Casing Durability – Simulates a solid steel rod "strapping" the tire onto the wheel. This design stabilizes the entire bead region and minimizes fatigue in order to extend casing life.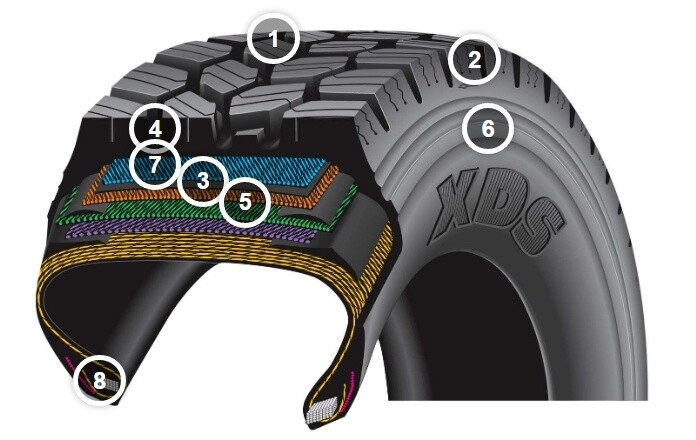 REFERENCE MATERIALS - DOCUMENTS
RELATED SERVICES AND SOLUTIONS
Technical Specifications
| | |
| --- | --- |
| Product | MICHELIN XDS - 12R22.5 |
| Overall Diameter | 1087 mm / 42.8 inch |
| Recommended Wheels | 8.25 |
| Approved Wheels | 9.00 |
| Min Dual Spacing | 335.29998779296875 mm / 13.2 inch |
| Tread depth | 26.455799102783203 32nds / 21.0 mm |
| Max Speed | 65 mph / 105 kmh |
| Max Load per Tire Single | 7390 lbs / 3350 kg |
| Loaded Radius | 506 mm / 19.9 inch |
| Seat diameter | 22.5 |
| Suitable for RV | No |
| CAI | 148787 |
| MSPN | 62208 |
Retread Offer
| Retread Name | Position | Application | Tread Depth |
| --- | --- | --- | --- |
| MICHELIN X Multi D - 12R22.5 | D | Regional Transport, Urban Transport | 28/32 nds |
| MICHELIN X Multi D - 12R22.5 | D | Regional Transport, Urban Transport | 28/32 nds |
| MICHELIN X Multi D - 12R22.5 | D | Regional Transport, Urban Transport | 28/32 nds |
| MICHELIN X Multi Energy D - 12R22.5 | D | Regional Transport | 21/32 nds |
| MICHELIN X Multi Energy D - 12R22.5 | D | Regional Transport | 21/32 nds |
| MICHELIN X Multi Energy D - 12R22.5 | D | Regional Transport | 21/32 nds |
| MICHELIN XD4 - 12R22.5 | D | Line Haul, Regional Transport | 28/32 nds |
| MICHELIN XD4 - 12R22.5 | D | Line Haul, Regional Transport | 28/32 nds |
| MICHELIN XD4 - 12R22.5 | D | Line Haul, Regional Transport | 28/32 nds |
| MICHELIN XDC 22 - 12R22.5 | D | Line Haul, Regional Transport | 22/32 nds |
| MICHELIN XDC 22 - 12R22.5 | D | Line Haul, Regional Transport | 22/32 nds |
| MICHELIN XDC 22 - 12R22.5 | D | Line Haul, Regional Transport | 22/32 nds |
| MICHELIN XDE M/S - 12R22.5 | D | Regional Transport | 20/32 nds |
| MICHELIN XDE M/S - 12R22.5 | D | Regional Transport | 20/32 nds |
| MICHELIN XDE M/S - 12R22.5 | D | Regional Transport | 22/32 nds |
| MICHELIN XDE M/S - 12R22.5 | D | Regional Transport | 22/32 nds |
| MICHELIN XDE M/S - 12R22.5 | D | Regional Transport | 22/32 nds |
| MICHELIN XDHT - 12R22.5 | D | Line Haul, Regional Transport | 23/32 nds |
| MICHELIN XDHT - 12R22.5 | D | Line Haul, Regional Transport | 23/32 nds |
| MICHELIN XDHT - 12R22.5 | D | Line Haul, Regional Transport | 23/32 nds |
| MICHELIN XDHT - 12R22.5 | D | Line Haul, Regional Transport | 23/32 nds |
| MICHELIN XDHT - 12R22.5 | D | Line Haul, Regional Transport | 23/32 nds |
| MICHELIN XDHT - 12R22.5 | D | Line Haul, Regional Transport | 23/32 nds |
| MICHELIN XDHT - 12R22.5 | D | Line Haul, Regional Transport | 23/32 nds |
| MICHELIN XDHT Siped - 12R22.5 | D | Line Haul, Regional Transport | 23/32 nds |
| MICHELIN XDHT Siped - 12R22.5 | D | Line Haul, Regional Transport | 23/32 nds |
| MICHELIN XDHT Siped - 12R22.5 | D | Line Haul, Regional Transport | 23/32 nds |
| MICHELIN XDN 2 - 12R22.5 | D | Line Haul, Regional Transport | 27/32 nds |
| MICHELIN XDN 2 - 12R22.5 | D | Line Haul, Regional Transport | 27/32 nds |
| MICHELIN XDN 2 - 12R22.5 | D | Line Haul, Regional Transport | 27/32 nds |
| MICHELIN XDN 2 - 12R22.5 | D | Line Haul, Regional Transport | 27/32 nds |
| MICHELIN XDN 2 - 12R22.5 | D | Line Haul, Regional Transport | 27/32 nds |
| MICHELIN XDN 2 - 12R22.5 | D | Line Haul, Regional Transport | 27/32 nds |
| MICHELIN XDS2+ - 12R22.5 | D | Regional Transport, Urban Transport | 25/32 nds |
| MICHELIN XDS2+ - 12R22.5 | D | Regional Transport, Urban Transport | 25/32 nds |
| MICHELIN XDS2+ - 12R22.5 | D | Regional Transport, Urban Transport | 25/32 nds |
| MICHELIN XDS2+ - 12R22.5 | D | Regional Transport, Urban Transport | 25/32 nds |
| MICHELIN XDS2+ - 12R22.5 | D | Regional Transport, Urban Transport | 25/32 nds |
| MICHELIN XM+S4 - 12R22.5 | D | Line Haul, Regional Transport | 21/32 nds |
| MICHELIN XM+S4 - 12R22.5 | D | Line Haul, Regional Transport | 21/32 nds |
| MICHELIN XM+S4 - 12R22.5 | D | Line Haul, Regional Transport | 21/32 nds |